Get ahead of the game with functions management for golf courses & clubs.




Turn your business into a 24/7 sales machine.
From increasing your revenue to streamlined venue management and intelligent reporting, iVvy is the only platform that distributes your inventory, optimizes your sales activity and enables real-time bookings.
Discover why iVvy is the trusted choice for chains and groups.
Market
Make the competition green with envy – choose iVvy.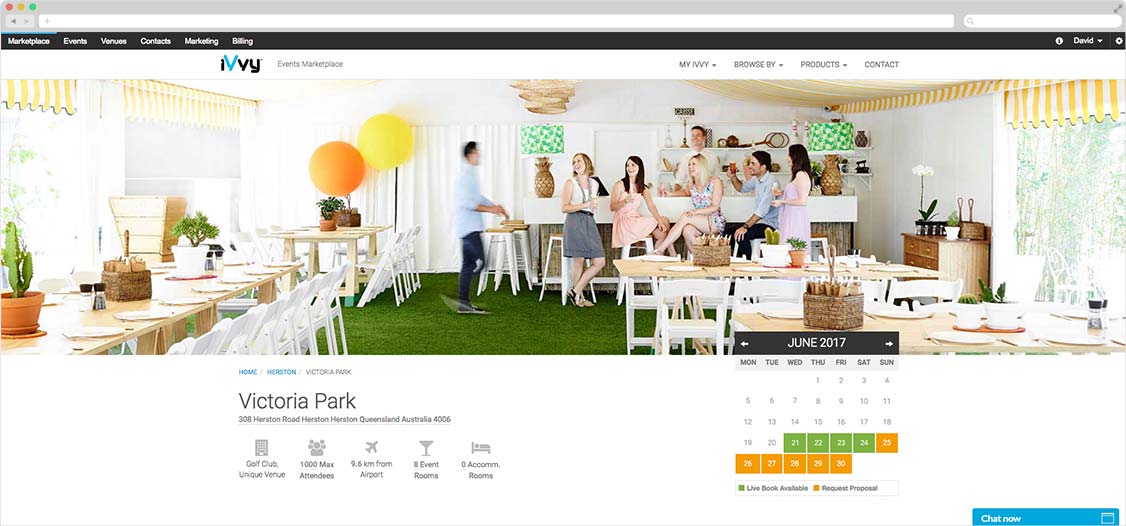 Marketing exposure
Promote your club through your own site, iVvy or our partner network. Create engaging email campaigns, customer surveys and meaningful reports.

CRM
One database for all your client records. Segment into groups, record contact history and run instant reports.

Instant bookings & inquiries
Take instant bookings online.
Check out our benefits for chains.

Instant quotes & contracts
Respond to inquiries in minutes.

Live availability
Show availability on your member's website.

Brandable booking button
Accept instant bookings and inquiries with your own branded booking button.

MP integration
We play nice with MPower and a host of software to make your job easier.

Booking Management System
View all tentative and confirmed business in one function diary, manage the bookings process from inquiry to invoice and get an instant view of availability.

Payments & invoicing
Invoice clients according to your payment terms and accept instant payments through our 25+ supported payment gateways.
Report
Stay on course with instant insights.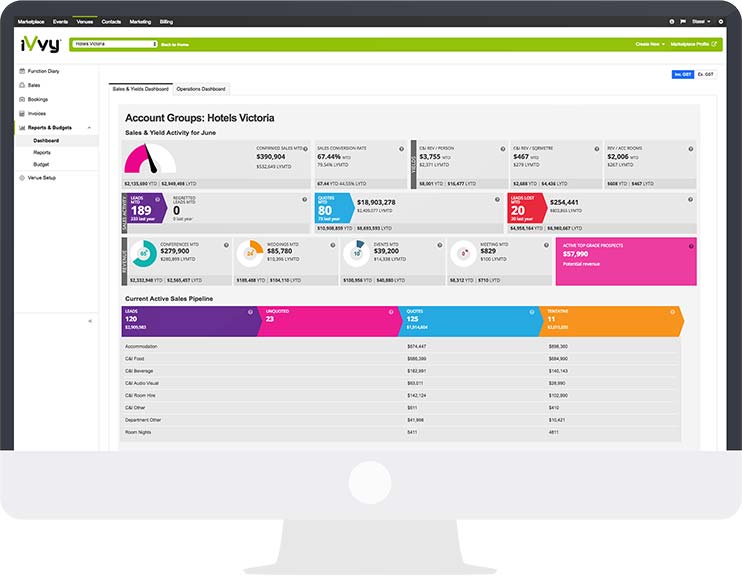 Automated reporting
No more spreadsheet struggles – generate automated reporting on your preferred schedule.

Single login
Everything you need to manage your venue in one place.

User-friendly, simple to learn & use
Easy to use and implement.
Features
Clever tools to up your game.

CRM

Tasks & activities

Reporting & analytics

Audio visual management

Contact management

Quoting & contracts

Function diary

Food & beverage management

Floor plan designer

Payment & invoicing

Accommodation integration

API

Surveys

Email & SMS marketing

Group search & reporting

Virtual run sheet
Ready to revolutionize your business with iVvy?
Ditch the spreadsheets and manual processes, and put the fun back into your events with iVvy. Smarter solutions, stronger outcomes – that's iVvy, where it all comes together.
Get started now