Hotel sales & catering management on the hop.







Turn your business into a 24/7 sales machine.
From increasing your revenue to streamlined venue management and intelligent reporting, iVvy is the only platform that distributes your inventory, optimizes your sales activity and enables real-time bookings.
Discover why iVvy is the trusted choice for chains and groups.
Market
More exposure, more customers.

Global visibility for your venue
Distribution through iVvy Marketplace and our partner websites.

Booking widget
Show live availability and accept instant bookings or RFPs on your own site with our calendar widget.

Customizable templates
Protect your brand with customizable templates that you upload, or we create for you.

3D tours
Welcome customers from interstate or the other side of the globe with a 3D virtual site inspection.

Email marketing
Create personalized email campaigns with our easy drag-and-drop editor. Create targeted campaign lists and generate powerful reporting to optimize customer communications.

Visibility
With real-time visibility for your function space, you're always 'open for inspection' – even when you're not.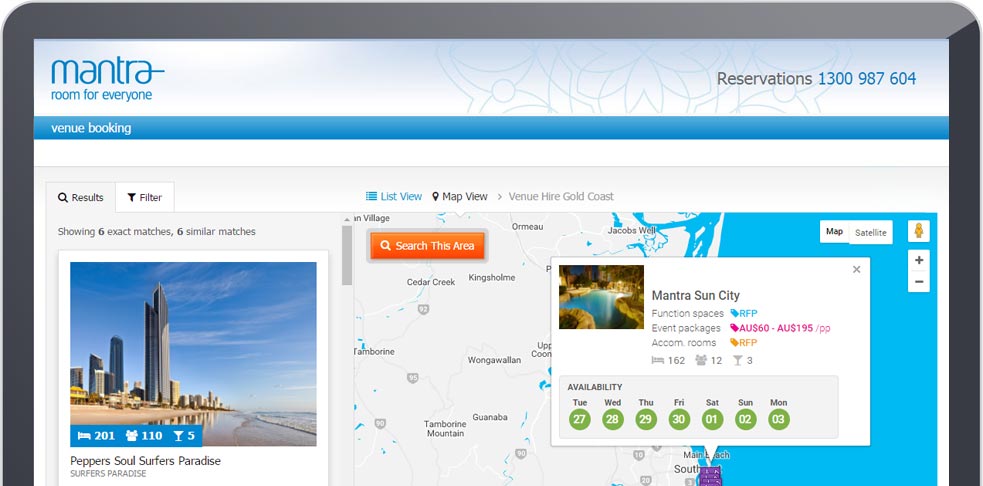 Manage
Cloud-based Sales & Catering made simple.

Instant quotes & contracts
Create instant quotes, contracts and run sheets – no more manual processes or spreadsheets.

Manage bookings in minutes
Generate floor plans and allocate resources with just a few clicks.

Resource management
Set up menus, packages, accommodation rate plans and release schedules.

Payments & invoicing
Invoice clients according to your payment terms and accept instant payments through our 25+ supported payment gateways.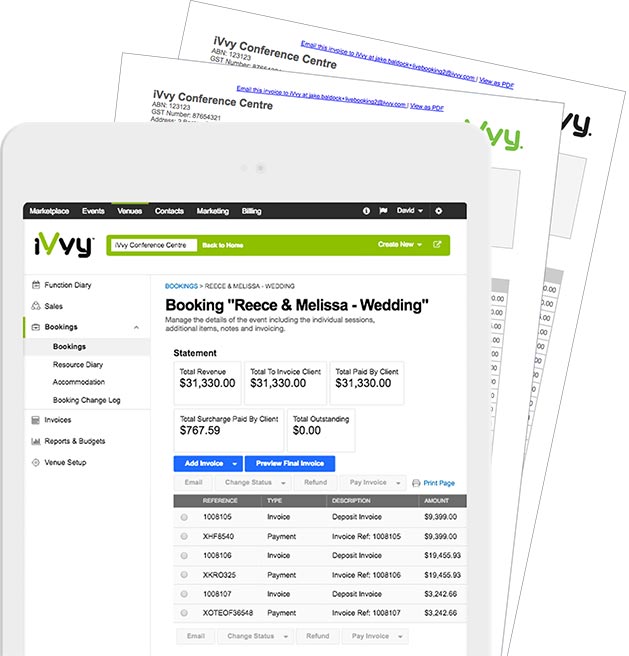 Report
Smarter data with the click of a mouse.

Instant reports
Ditch the spreadsheets with instant standard reports. Set automated report schedules and choose who receives what info, when.

Trends & performance
Understand business won, lost and why.

Custom reports
Got a question our standard reports can't answer? Create your own with our easy report builder.

Budgets & forecasts
Manage your sales pipeline and compare budgets to actuals.
More bookings, more control, more time.

Publish your live availability
Generate more bookings with live availability. We put you in control, with your own rules engine – you decide on the spaces, packages and availability to publish.

Yield your space
Optimize sales and profit with real-time visibility for your function space.

Respond to RFPs in minutes
Reduce response times from hours to minutes with instant quotes and automated processes.

Get last minute bookings
Event organizers can search, book and pay in minutes. Never miss a lead with iVvy.

Access iVvy anywhere, on any device
Our cloud-based solution gives you 24/7 access, anywhere, on any device so you're not chained to the office.

Easy to use and implement
From front-line staff to executive management, iVvy is simple to integrate and use. Empower your team and turn your business into a 24/7 sales machine.
"iVvy's platform has been a game changer for the Mantra Group. We are now able to deliver an enhanced customer experience, optimized revenue management and greater transparency across divisions."
Mark Hodge, Executive Director – Operations, Mantra Group
View Case Study
Features
Everything you need to boost your bookings.

CRM

Tasks & activities

Reporting & analytics

Audio visual management

Contact management

Quoting & contracts

Function diary

Food & beverage management

Floor plan designer

Payment & invoicing

Accommodation integration

API

Surveys

Email & SMS marketing

Group search & reporting

Virtual run sheet
Ready to revolutionize your business with iVvy?
Ditch the spreadsheets and manual processes, and put the fun back into your events with iVvy. Smarter solutions, stronger outcomes – that's iVvy, where it all comes together.
Get started now