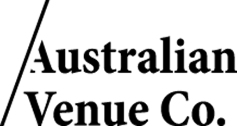 Australia Venue Co.
The better way to manage sales and operations

Background
Renowned for its vibrant atmosphere, cutting edge fit-outs and a creative food & beverage offering, Australian Venue Co. boasts an ever-popular national portfolio of restaurants, bars and dedicated event spaces. Established in 2012, Australian Venue Co. prides itself on its diverse range of venues, each with their own brand identity and a consistent focus on providing exceptional gastronomical experiences. In late 2017, iVvy's cloud-based venue management platform was rolled out across 55 of Australian Venue Co.'s properties to provide them with a centralised booking engine to manage their event spaces and improve their ability to gain insights into individual property and business-wide performance.

What was previously an incredibly labour- intensive lead-to-contract process,

the group was in desperate need to improve efficiencies and provide their team of 156 users the tools to process payments, create banquet event orders and generate multi-property quotes to capitalise on inbound sales revenue.
Results
Australian Venue Co. implemented the iVvy Venue management solution across their portfolio of 55 sites, Australia wide.

The iVvy implementation has enabled the group to:
Reduce the time it takes to generate quotes and multi-quotes to 15 minutes (a process that would typically take over half an hour)
Create BEOs and provide access to these documents to head office
Improve reporting functionality with the ability to forecast sales figures
Save time and improve accuracy through the MyGuestlist integration
iVvy Solution
Through the iVvy software, Australian Venue Co. has been able to significantly improve their client services by providing multi-property quotes, thus allowing them to promote and upsell alternate available properties. The iVvy solution has also enabled the group to better manage their sales and operations with improved efficiency, whilst affording them direct access to smarter data, improving their ability to forecast revenue.

With the functionality to accept electronic signed contracts as well as process payments and track deposit progress, the centralised system affords the group's growing team visibility to aid in cross-departmental communication.

Operationally, iVvy's integration with MyGuestlist has also improved the speed at which opportunities are entered into the system accurately, in turn saving time and reducing the risk for human error.

With an improvement to enquiry response times, Australian Venue Co. venues can take advantage of the digital landscape to better serve their new and existing online consumers.
"We've worked with systems before, but iVvy is the best in-market for price capability and flexibility."
Kylie Moncur – GM, Sales & Marketing
Tech fee without commissions
Rules Engine for live bookings
Direct booking engine and distribution controls