Award-winning venue management software with bite.








Turn your business into a 24/7 sales machine.
From increasing your revenue to streamlined venue management and intelligent reporting, iVvy is the only platform that distributes your inventory, optimizes your sales activity and enables real-time bookings.
Discover how iVvy can fire up your restaurant bookings.
Market
Got an appetite for success? Get iVvy.

Live availability
Never miss an opportunity with live availability and pricing for your venue, from private dining rooms to function spaces.

Instant bookings & inquiries
Capture leads, attract enquiries and generate more bookings – customers can search, view and book any time with our instant Booking button.

Brandable booking button
Customers can view, book and pay any time with our brandable booking button.

Book last minute business
Promote quiet periods and attract last minute bookings.

CRM
Capture and create leads, manage conversion, create target segments and record all email communication against contacts.

Marketing
Add firepower to your customer campaigns with our automated email marketing tools, drag-and-drop editor and analytics.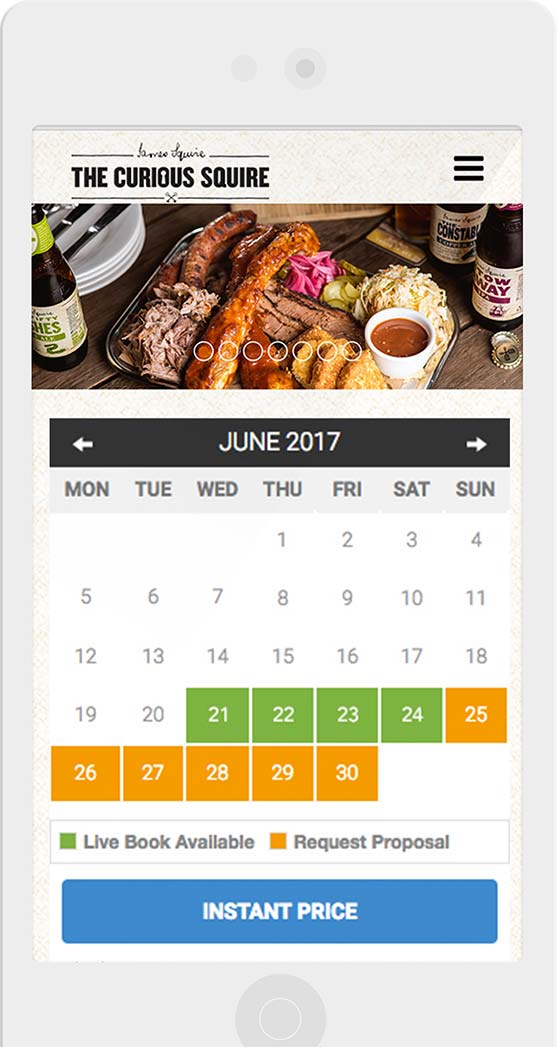 Manage
Better results, less stress.

Instant quotes & contracts
Respond to inquiries in minutes.

Simple to learn & use
Easy to use and implement.

Booking management
View all quoted, tentative and confirmed bookings in one central function diary with daily, weekly or monthly view.

Calendar & tasks
Create tasks for yourself or team members, add activities to your calendar and integrate with Outlook calendar. You'll never miss a deadline with iVvy.

Flexible space options
Set up function space with different layout options to make quoting and booking simple.

Online training & knowledge base
Easy to learn and use, our online certification program allows users to complete training at their own pace, with modules tailored to their role in your business.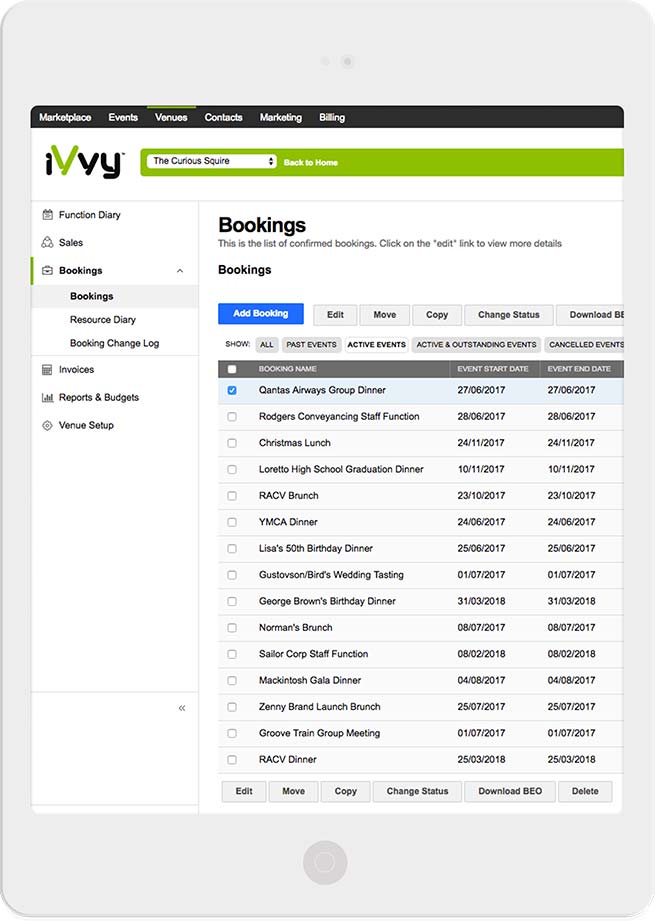 Report
Make better decisions with meaningful reports.

Automated reporting
No more spreadsheet struggles – generate automated reporting on your preferred schedule.

Trends & performance
Understand business won, lost and why.

Budgets & forecasts
Manage your sales pipeline and compare budgets to actuals.
Features
Everything you need to boost your bookings.

CRM

Tasks & activities

Reporting & analytics

Audio visual management

Contact management

Quoting & contracts

Function diary

Food & beverage management

Floor plan designer

Payment & invoicing

Website booking button

API

Surveys

Email & SMS marketing

Group search & reporting

Virtual run sheet
Ready to revolutionize your business with iVvy?
Ditch the spreadsheets and manual processes, and put the fun back into your events with iVvy. Smarter solutions, stronger outcomes – that's iVvy, where it all comes together.
Get started now